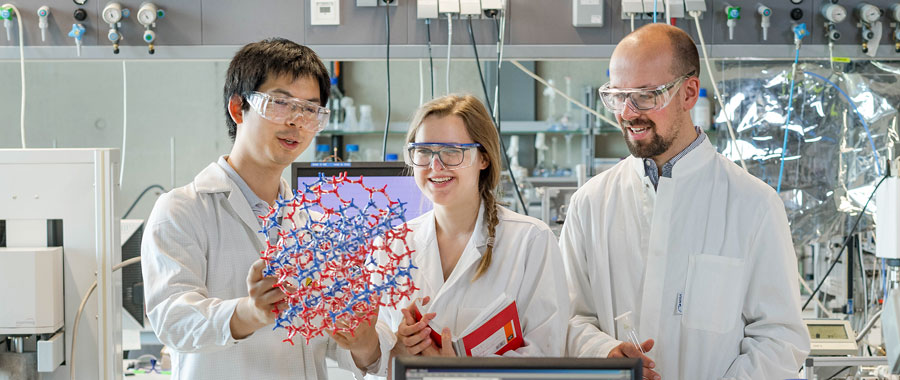 The TUM Global Visiting Professor Program offers the opportunity to recruit excellent professors from international partner universities for temporary teaching and research collaborations, thus further promoting the internationalization of TUM. Applications for the program can be submitted at any time.
Eligibility requirements
All TUM professors and all TUM Junior Fellows are eligible to apply.
A direct application by the visiting scientist is not possible.
Visiting Professors (other accepted titles: "Associate Professor" or "Lecturer") must be affiliated with an international higher education institution. Exceptions may be granted on a case-by-case basis due to scientific relevance.
Maximum available budget: 10.000,00 € per project.
The TUM Global Visiting Professor Program allows stays from one week to three months.
Stays are possible at the earliest three months after the respective application deadline.
Global Horizons Engagement
International visiting professors from all over the world are welcome, without regional limitations. However, as part of the TUM Global South Initiative, TUM puts a special focus on fostering collaborations and activities in the following countries:
Latin America: Brazil and Peru
Africa: Ghana and South Africa
Southeast Asia: Indonesia and India
These activities can be supported by our global liaison offices, if applicable.
Eligible activities in the TUM Global Visiting Professor Program
Joint research projects (new and ongoing)
Preparation of research proposals for third party funding
Activities to develop/foster research collaboration
Research-orientated teaching in English. The program is not supposed to fund any fundamental teaching courses or courses substituting already existing ones at TUM.

Exploring the possibility of a more long-term collaboration in the framework of a TUM-IAS Fellowship (Anna Boyksen, Hans Fischer (Senior) or Rudolf Diesel Industry Fellowship)
Travel expenses to/from TUM
Accommodation expenses (daily allowances / lunch allowances / entertainment expenses are not reimbursable)
Honorarium for keynote speech or public lecture
Teaching assignments. Please note: teaching can only be funded, if the hosting TUM department issues a teaching assignment. The department may set the level of remuneration in accordance with TUM guidelines for remuneration of teaching assignments.
Development costs for virtual cooperation/teaching formats
Please note that we can only cover costs for the visiting professor, costs for family members cannot be covered by this program.
Goals, impact and relevance of the research / teaching cooperation
Added value to TUM's research, innovation and education agenda
Added value for TUM students and young researchers/scientists
Interdisciplinary approach to research / teaching, if applicable
Reputation and complementary expertise of the nominated visiting professor
Alignment with internationalization goals of the TUM department, institute, integrative research center, etc.
Sustainability of proposed activities (intended next steps; e.g. joint publications; joint proposal for third party funding; joint application for a TUM-IAS Fellowship; exchange of students and early career scientists)
Successful nominations will be selected by the TUM Board of Management in consultation with a panel of members of TUM central service units.
Application process
Applications for funding through the TUM Global Visiting Professor Program are to be submitted via our online application portal. To do this, you must register in the portal. After the login, please use the form Application - TUM Global Visiting Professor Program.
Registration on the portal and the upload of documents can be done by any staff of the applying TUM chair, provided that the applying TUM Professor or TUM Junior Fellow knows and is willing to take responsibility for the project. A visiting professor cannot apply directly.
Required documents
CV of visiting professor
List of at least five publications of the candidate, most relevant to the proposed activities
Downloads
Call for proposals and application documents
Program guideline