Slide 1

(Current Item)

Slide 2

Slide 3

Slide 4

Slide 5

Slide 6
Slide 1 of 6
TUM Global & Alumni Office
Discover the global side of TUM: The Global & Alumni Office is your central hub to learn about international exchange opportunities, as well as the university's worldwide partnerships and networks.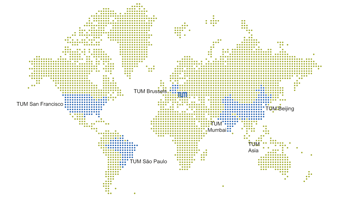 Our liaison offices
Our international campus in Singapore
Coronavirus: Information for students and staff seeking advice on our programs
Due to the current situation regarding the coronavirus disease Covid-19 and the virus SARS-CoV-2, we ask you to contact us by phone or e-mail only until further notice. We will try our best to perform our consulting services as smoothly as possible this way.
Please find your reference person on the TUM Global & Alumni Office's team website. Thank you very much for your cooperation!
Going abroad in times of Covid-19: Where can I study?
Please see the website of the European University Foundation and find an overview of universities offering student exchange in the framework of Erasmus+ and the Swiss European Mobility Program (SEMP)

Information platform of the EU Commission: How to plan your travels within the EU
The European Commission has launched the web platform Re-open EU to support a safe relaunch of travelling and tourism across Europe.