The virtual information series TUM Global Spotlights answers questions about current international events as part of the TUM Global & Alumni Office portfolio. Photo: TUM Global

TUM São Paulo Liaison Officer Sören Metz at the TUM Global Dialogue Series event on bioeconomy in Latin America. Photo: TUM Global

"Reinventing driverless mobility" was the topic presented by Liaison Officer Jeff Ouimet with representatives from TUM, Stanford, and industry at the 2020 Global Dialogue Series. Photo: TUM Global

TUM Global Dialogue is a speaker series of the TUM Global Network. Its purpose is to make TUM's scientific exchange with international cooperation partners accessible to the public. Photo: TUM Globaltionalen Kooperationspartnern für die Öffentlichkeit zugänglich zu machen. Bild: TUM Global

Philip Miessner, Head of the TUM Global & Alumni Office's Global Engagement team, was guest on the panel at the virtual DWIH New Delhi Research Day. Photo: TUM Global

At the Tsinghua-TUM Talks on Artificial Intelligence, the leading scientists from both universities and experts from industry came together digitally. Photo: Zhao Pengpeng
Slide 1

(Current Item)

Slide 2

Slide 3

Slide 4

Slide 5

Slide 6
Slide 1 of 6
On this page, you can learn more about events organized by the TUM Global & Alumni Office (TUM G&A) together with strategic partners as well as about the events of our liaison officers in Brussels, Mumbai, Beijing, San Francisco, and São Paulo. Moreover, the TUM G&A invites TUM's international representatives and all interested parties of our university to the virtual information series TUM Global Spotlights – an informal, 30-minute exchange in German about news from TUM's international network.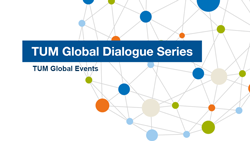 With the TUM Global Dialogue Series (TUM GDS), we invite the entire TUM community as well as the interested public to participate in the dialogue between TUM scientists and their partners as well as stakeholders worldwide.
The TUM Global Dialogues always take place in the fall and are organized by the TUM Global Engagement team, the TUM Global liaison officers, and colleagues from TUM Asia. The events are held online and in English to make them attractive to the widest possible interested international audience. Information on the individual events is expected to be available on this page from September.