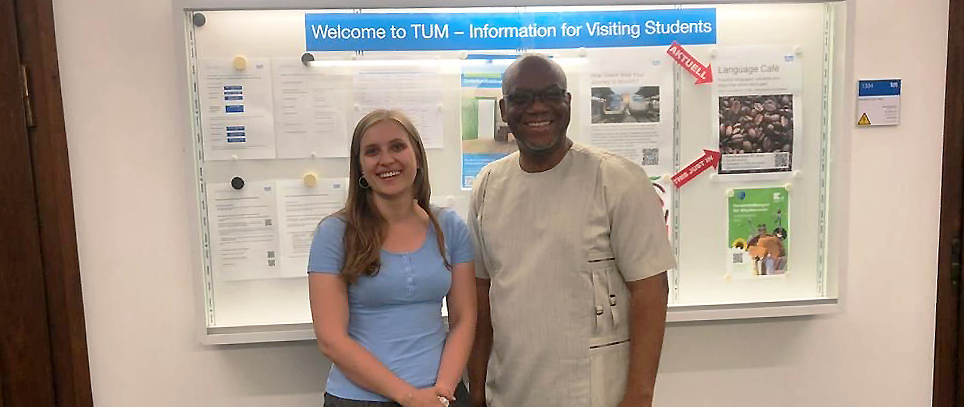 Erasmus+ enables international mobility from non-European universities for study, teaching and training purposes.
Financial support for Erasmus stays was previously only available for European universities. The new generation of the Erasmus+ program includes an "International Dimension" which enables Erasmus stays worldwide.
The new program supports teaching stays at TUM of scientists from the partner universities named below for training purposes.
Within the scope of the International Dimension of Erasmus+, funding is currently available for stays at TUM from administrative and academic staff from following partner universities.
Australia: University of Queensland
Braszil: Sao Paulo State University
China: Tsinghua University
Ghana: Kwame Nkrumah University of Science and Technology
Israel: Technion - Israel Insitute of Technology
Japan: University of Tokyo
An Erasmus+ Staff Mobility for Training (STT) offers financial and administrative benefits for visiting staff:
Financial support
Amount of financial support provided for mobilities at TUM

160,-€ per day
The support for travel expenses varies by country (Russia: 275,- €; Egypt, Israel: 360,- €; Ghana, India: 820,- €; Australia, Japan, South Africa, Vietnam : 1.500,-€)
Administrative framework for organizing training visits by signing an Erasmus+ Mobility Agreements Staff Mobility for Training.
Further benefits of the Erasmus+ Staff Mobility Program for Training
Internationalization of the administration
Collaboration and knowledge exchange with TUM partner universities
Expansion and consolidation of networks
Strengthening of individual competencies
Exchange of technical knowledge and new perspectives
Internationalization at home
The following requirements must be met in order to apply for the Erasmus+ Staff Mobility Program for Training (STT) at TUM:
Who is eligible?
Staff members from departments and administration employed by one of our partner universities:
Departments
Academic advice
Public relations
Professional development
Technology & Transfer
Finances
Libraries
International Center
etc.
Modalities
Fundable duration of stay: Depending on budget, at least five days.
A written agreement regarding the content and scope of the visit at TUM, the Mobility Agreement for Training, must be signed and submitted prior to departure.
Application procedure
Before TUM can approve a grant, the Erasmus+ coordinator of the home university must nominate the selected candidates to the Global & Alumni Office of TUM. Direct applications will not be accepted by TUM.
Contacts
For questions regarding the application and nomination process, please contact the Erasmus+ coordinator of your home university directly.
The Erasmus Office of the G&A Office will be pleased to answer any questions you may have regarding the Erasmus+ program, the program structure/administrative contacts and financial support.
The International Affairs Delegates of each department will provide information about the staff mobility opportunities at TUM departments and help you to find to right contact person at TUM.
Upon successful application and nomination by the home university, staff members will receive confirmation by email from the Global & Alumni Office of TUM. This mail will provide a detailed program checklist and additional forms. The participant will also receive a Grant Agreement which contains information about the amount and payment modalities of the grant provided.
For further information about the Erasmus+ Staff Mobility Program for Training, please visit the website of the German Academic Exchange Service (DAAD).